Read my latest reviews at the Sheist
There are true stories and then there are "true stories" usually based very loosely on someone's account or a screenwriter's creative imagination. Regardless of accuracy, this was an interesting way to make a film…using interviews conducted with the actual people portrayed in it. Although I watched this film when it was released at the end of last year, with the 2018 Winter Games currently underway, now feels like the perfect time to finally talk about it. I, Tonya paints a much different portrait of the infamous figure skater and the unforgettable events surrounding the 1994 Winter Olympic Games.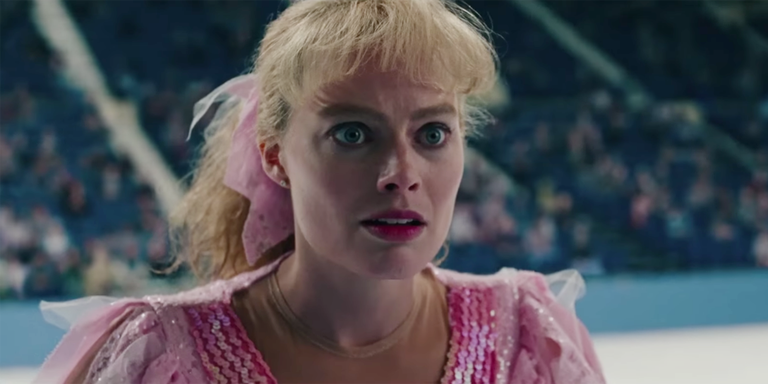 This film wouldn't have received the attention it has without Margot Robbie leading the way as Tonya Harding. Not to say that the rest of the film doesn't warrant any recognition on its own, but having an A-list actress as the face of the project went a long way in putting the movie on the map. Despite the character history, Robbie wasn't afraid to get her hands dirty. With seemingly little known about Harding when she gained her fame, and more than 20 years passed since the incident, the Oscar nominated actress had a mostly clean slate to work with.
At this point, it's no secret that her performance was a captivating one. This version of Harding was wrought by the iron fist of her overbearing mother and Robbie captured that dynamic strikingly while still managing to cultivate sympathy for someone who has been cast as the villain for more than two decades. Tackling the difficulty in that kind of monumental task shows the kind of dedication the Australian actress brings to the table when she signs on to a project. Hers was a performance that didn't just stand out, it's what the success of the film is hinged upon. There was clearly a lot of pressure on her to deliver and she did so in captivating fashion, elevating the entire film to a different level. She's well deserving of her Academy Award nomination but, for a first time nominee, it'll be an uphill battle for her this year going up against Sally Hawkins and Frances McDormand.
That being said, it was really Allison Janney that stole the show playing Tonya's mom LaVona Golden. Amid a bunch of good performances from a talented cast, hers was undoubtedly the strongest. Janney is a very talented veteran actress and this role was the perfect fit for her wry sense of humor. Combine that with a domineering character who has a propensity for foul language and it's the perfect storm for a memorable performance.
LaVona is such a colorful character, it's difficult to hate her despite the way she treats her daughter. While the motivations behind the treatment of Tonya fall somewhere between nurturing mother and army drill sergeant, there's no doubt Harding was pushed to be one of the very best figure skaters in the world at one point. The contrast between the two does, however, really help cultivate an air of sympathy for the skating star who's traditionally been cast as the villain. Janney is a huge part of the reason this film has resonated and her brilliance in the role can't be underscored enough. Like Robbie, Janney's first Academy Award nomination is well deserved and she's likely the frontrunner for Best Supporting Actress.
Director Craig Gillespie had a tall task in front of him. On the one hand, he had this villainous icon in Harding at the center of the film. But on the other hand, her story is actually much more in line with that of the tragic hero. Reintroducing her to a much broader (and more forgiving) audience was certainly a risky gambit, but Gillespie delivered what's likely the best work of his career (although Lars and the Real Girl was quietly excellent). Steven Rogers must have some strong indications that the story would play best as a comedy when he drafted the screenplay, if for no reason other than the utterly ridiculous people at the center of the story. It was smart of him to place the majority of the heavy lifting in the hands of Janney (who's a longtime friend of his) because the role seemed tailor made for her. For Rogers, this was likely his crowning achievement as well but surprisingly didn't make the cut for Best Original Screenplay.
The most peculiar figures in this tale of shattered dreams are that of Harding's ex-husband and her "bodyguard". Sebastian Stan, who made his name mostly as Bucky/Winter Soldier in the Captain America franchise, was fantastic playing the abusive but completely bumbling and pathetic on-again-off-again husband Jeff Gillooly. Stan is wonderfully pitiful when he needs to be and equally as repugnant…all the way down to his stupid moustache. Gillooly's remarkably unlikeable especially as the bigger picture comes together and Stan drove that point home. Alongside him, Paul Walter Hauser played Harding's self appointed security detail but "goon" is a much more appropriate descriptor. He was a blast to watch mainly because Shawn is a complete dipshit. His inflated sense of self and completely fabricated background only serve to highlight his total incompetence. Hauser has a lot experience working in comedy and it showed, both in his timing and his general demeanor. He was just the right fit for the character and really helped layer the overall story.
There was a great deal of subtlety in the visual storytelling as well. The makeup department skillfully disguised Robbie's face with small variations, prominent enough  without completely hiding the face of the high-profile star. Similarly, there was quite a bit of layering going on with Janney as her character appeared both in flashbacks and the primary timeline. It's an expert bit of nuance that can go a long way on a project like this one. Adam Willis also did a wonderful job decorating the sets, bringing an nice level of authenticity to a story taking place over the 1980s and 90s. Jennifer Johnson's costumes were pretty spot on as well especially as it pertains to Harding's figure skating attire over the course of her career. The whole project is tied together by a surprisingly strong soundtrack with hits from Dire Straits, Fleetwood Mac and the Violent Femmes. The music captures an attitude for the film that embodies Harding as both a competitor and a person.
If you take a step back, the story of Tonya Harding isn't such a peculiar one. She made some bad choices and was surrounded by some bad people, but watching her journey can certainly change your perspective. You may even learn a little something along the way. Either way you'll probably have a good time.
Recommendation: If you remember the entire debacle from 1994, then there's definitely some nostalgia on the table which makes it worth watching. I would tend to think the movie won't resonate as loudly with a younger audience, unfamiliar with just how big a deal the attack on Nancy Kerrigan actually was at the time. It's still an enjoyable ride either way that doesn't venture off into the absurdly offensive.
Grade: B