With superhero movies not only abundant, but basically over-saturated in Hollywood at this point, it's become increasingly difficult for any of them to carve out their own identities as films. Even more challenging for Marvel Studios who is overseeing, coordinating and interweaving multiple projects all with one overarching story-line coming together in the not too distant future. Spider-Man: Homecoming managed to not only find its creative niche, but breathed life back into one of Marvel's most (if not the most) beloved characters and became quite possibly the most important release for the Marvel Cinematic Universe since the original Iron Man got everything started back in 2008.
Kevin Feige really is a wizard. He deserves immeasurable credit for being able to keep his finger on the pulse of the industry and the fans while simultaneously coordinating with the studio to bring a massively scaled cohesive vision to life. His faith in directors Joss Whedon and James Gunn paid off handsomely with The Avengers and Guardians of the Galaxy respectively, and his decision to go with the relatively unknown Jon Watts was a great choice. He was clearly influenced by 80s movies, namely John Hughes flicks, paying tribute both directly and indirectly throughout Homecoming. For a director without much full length feature experience he did a remarkable job capturing the spirit of the character and making the whole experience feel fresh. What he understood is that Peter Parker is Spider-Man. Now that may sound a obvious or even a bit stupid, but it's something I think the previous Wall Crawler movies failed to fully grasp.
Through no fault of their own, Both the Tobey Maguire and Andrew Garfield versions of the character weren't remotely believable as high school students (both in their late 20s at the time)…but still. As a result, very little of their stories were told through that prism and the school only functioned as a set piece. There was no depth there. This new take on the character focuses very heavily on his journey as a loser-ish high school kid who is moonlighting as Spider-Man. He's not an adult and that's what makes the character so endearing. The youthful exuberance of the Web Slinger is his trademark and it's something that's not common among his superhero peers.  
Capturing that essence is no easy task…especially considering five other films have tried but only found varying degrees of mediocrity by mixing and matching writing teams along the way. Watts teamed with Jonathan Goldstein, John Francis Daley, Christopher Ford, Chris McKenna and Erik Sommers to write this film. The script has a very down-to-earth, organic sense of humor that plays well both physically and verbally, but works best when it's both. I was really glad to see the sidekick/best-friend role fully hashed out here and it plays well. A secret identity is quite the burden and having an enthusiastic confidant goes a long way for the character and the audience. The rest of the main characters were mostly well written, although the villain went from a semi moral-ish type to an outright crime boss with a very quick stroke of the pen. All in all the screenplay was well put together, cramming quite a lot of storytelling into the 133 minute run-time without stagnating.
The screenplay wasn't flawless. Unfortunately, the reality of consequence was almost entirely lost in this script. There is an entire scene dedicated to lecturing the upstart superhero about the subject only resulting in the kid getting "grounded" by his Avenger mentor. The entire narrative rings false when the tough consequences never come to fruition. Furthermore, it just doesn't fit the character. One thing the previous five films got right was whether it was Uncle Ben, Captain Stacy or Gwen herself, there was always some specter of tangible consequence looming over Peter. Most iterations of the character have him struggling with internalized grief and guilt in the face of continuing as Spider-Man. It is one of his most redeeming qualities and it's noticeably absent this time around. 
Tom Holland turned out to be a fantastic choice and is easily the best version of the character…and there's still plenty of room for him to grow. Sarah Finn has been on board as the Casting Director since the very beginning of this Marvel journey and she found the right balance of boyish charm and acting chops when she cast Holland for Captain America: Civil War. In that film, he wasn't a primary player and didn't have to carry the movie or really get into his character at all, for that matter. So, he was still mostly an unknown quantity when it came to giving him the reigns. Thankfully, he learned from his predecessors and applied that to his own interpretation. The new Peter Parker also had the benefit of a strong cast around him.
Finn has consistently cast high caliber actors in the villain roles for the MCU and that trend continued with the resurgent Michael Keaton. Stepping in as the Vulture, Adrian Toomes, he brought much needed humanity to the character. The last few Spidey villains were so far removed from their human characters it was nearly impossible to empathize with them despite having stellar actors in those roles. Keaton didn't fall into that trap. He established Toomes's identity and moral boundaries early on, drawing a line in the sand when it came to the existing hero establishment. His veteran presence and range created an excellent counterweight to Holland and the pair have excellent push and pull when sharing the screen.
Robert Downey Jr. is in the movie quite a bit as Tony Stark/Iron Man and brought some new layers to the character with which he is now synonymous. Downey Jr. and Holland have a lighthearted, authentic chemistry and have been paired together for a reason. It has been made clear in other films that Tony yearns for the relationship with his father that he will never have and in this movie we see him attempt to fill that void for Peter who's also lost his father figure. It's a more mature Stark than we've seen in the past that makes for an interesting father/son dynamic that's more worthwhile. If Marvel Studios is smart, which they are, I expect the pair to be featured more as the MCU moves forward. Marisa Tomei also returned in a slightly more forward role as Aunt May. Not much is required of her, but she fits the bill as Peter's attractive and single aunt. John Favreau also returned as Tony's bodyguard and chauffeur Happy Hogan. He was much more involved in this movie than he was in previous outings, serving as an intermediary between Peter and Tony. His relationships with both characters were so different, we got to see much more of who Happy really is. There are some other cast surprises as well, but I don't want to ruin those.
Much to Finn's continued credit, this was a much more diverse cast than anything we've seen from Marvel Studios as well. Zendaya was surprisingly good and is heavily featured as the quiet and brooding Michelle. Jacob Batalon did a fantastic job as Ned, Peter's best friend. Laura Harrier was okay as the love interest Liz, but she really didn't have to do much. Tony Revolori took over as Flash and completely reinvented a very boring and cliched character. Abraham Attah was refreshing as part of Peter's circle with the Academic Decathlon team. Bokeem Woodbine was a nice addition as the Vulture's right hand man. Hannibal Buress and Kenneth Choi played high school gym teacher and principal respectively. Donald Glover even has a small but very important role as street level criminal Aaron Davis. Overall, bringing together a wide range of actors helps the brand and paves the way for the Miles Morales Ultimate Spider-Man in the not too distant future.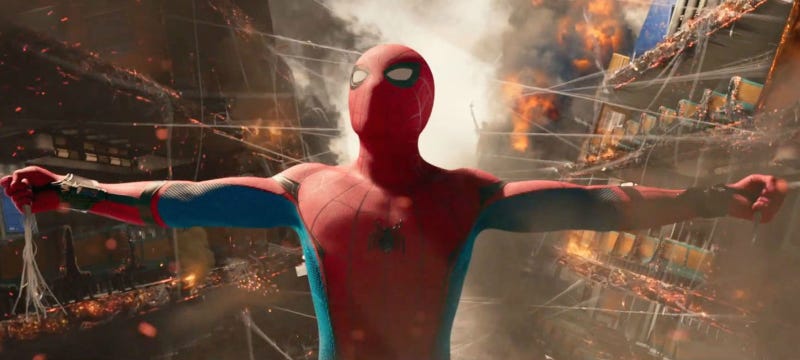 The visual effects crew for this project was larger than some small towns and I'd be remiss to not mention how fantastic of a job they did in this film. Some superhero stories can be told without much GCI assistance, but Spider-Man isn't one of those. Large scale action sequences have been a hallmark of the character's films, becoming more and more computer generated as they progressed. What Homecoming did exceptionally well was capture the clumsiness of a young hero with a learning curve and meld it with the high octane acrobats we're accustomed to. Production design by Oliver Scholl made for a very colorful world where this story could take place and feel at home. Debbie Berman and Dan Lebental had a ton of editing to do and they strung it all together seamlessly. Supervising Art Director Brad Ricker and his team polished the look and feel of the new franchise while still allowing it to fit visually within the MCU. The special effects and stunts teams did a nice job bridging the gap between the real world and the CGI final product. There are so many people that worked on the project, it's not possible to mention them all individually but I'm sure they are thrilled with the final version of the film.
This is absolutely the best Spider-Man movie so far and Holland is the best version of the character we have seen as well. Homecoming is easily the best superhero movie of the year, challenged only by Logan (sorry Wonder Woman), and one of (if not) the best in the MCU's entirety. The overwhelming positive response from fans and critics is a good indicator that this new direction for the character has a bright future. I'm guessing Sony is pretty happy they signed that license agreement Marvel Studios now.
Recommendation: If you're invested in the MCU, this is obviously a must see. But at least it's worth it, unlike Guardians 2. Even if you aren't a huge fan of the comic book hero movie genre, this is still a movie worth watching. It's more grounded than many of its counterparts and more accessible to a wider audience. Although the 3D experience may be what some people like, I found it to detract from the CGI immersion a bit too often.
Grade: B+