Escapism has always played a large role in cinema. Whether it be the latest installments in franchises like Fast and the Furious, Transformers or the latest superhero flick, studios aren't shy about loading down on fantasy during the spring and summer months. So, it was rather refreshing to see Beatriz at Dinner serve up wonderfully dark comedy for the current socio-political climate.
Miguel Arteta directed this parable written by Mike White. They worked together previously when Arteta directed some episodes of White's TV show Enlightened, back in 2011. He clearly understands White's narrative style and funneled the film through the lens of the main character Beatriz, drawing clear lines in the sand. As something of a loner, her dialogue was saturated with character nuance that is mostly overlooked until confrontation becomes the main course. This is the kind of script that demands skillful execution and that is evidenced by the performances in the film.
This film is undoubtedly carried by a great cast. Joanna Colbert and Meredith Tucker wrangled a very skilled group of complementary actors who brought a simple dinner party to life. At the head of the class is Salma Hayek as Beatriz, a spiritual, holistic healer and masseuse who basically winds up at a client's dinner party as a courtesy. She was spectacular in this film and displayed a surprisingly pleasant singing voice. Grace and poise stand firm as pillars of her style as she brought a substantial level of empathy and humanity to the character as well, likely positioning herself for Best Actress consideration when awards season rolls around. Her joust partner for this film is the wonderful John Lithgow, as real estate Doug Strutt. Oozing elitism, he's arrogant, sexist and racist…and generally an all around asshole. Lithgow's liquid mastery of comedy and tragedy makes him the perfect foil, effortlessly navigating between disarming charisma and smug condescension. He stands in firm opposition to Beatriz and her bleeding heart in every way, setting off the primary conflict which engulfs the dinner while the other guests are reduced to hapless spectators.
The rest of the characters are mostly broad stroke representations of upper-class socialites with no desire to take a stance on either side of the argument. That being said, the supporting cast    really nailed those roles. Connie Britton is marvelously obtuse as Cathy, a long time client and "friend" of Beatriz. Her lack of any genuine investment in Beatriz is sadly authentic and not at all surprising, but Britton hit it on the head. David Warshofsky plays a pitch perfect asshole as her husband Grant. His eagerness to kiss Doug's ass at every opportunity is truly sickening but fits the bill. Amy Landecker plays Jeana, Melania to Doug's Trump, with marked enthusiasm. Chloe Sevigny and Jay Duplass round out the primary cast as Shannon and Alex respectively, social climbers looking to take advantage of the situation. They brought just the right amount of youthful exuberance to the otherwise venerable dinner crew and seemingly had a blast doing so.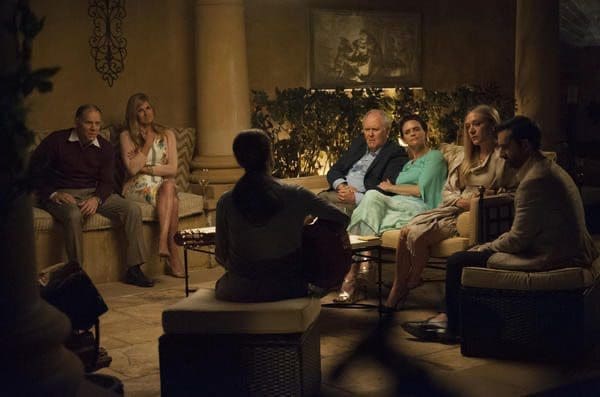 This movie really, really wanted to be a sharp and poignant work of social commentary. Instead it settles for a more cursory approach. The character modelling of Beatriz and Doug is obviously targeted, but ultimately the messaging falls flat. While the film engages in a conversation that is worth having, it lacks any kind of practical or reasonable conclusion. There is no concrete moral to the story which leaves the audience holding the bag. Although the tactic is likely intentional, given the context of the film, it still leaves the audience with an empty feeling.
Recommendation: I think both sides of the political spectrum can appreciate certain aspects of this film while those in the middle should appreciate the quality regardless, but it isn't going to be for everyone though. It's slow, borderline boring if you're not there for the right reasons. Taking the kids to see this on 4th of July weekend is definitely not a good investment. If you're looking to beat the heat and know what you're getting into, this movie can be enjoyable.
Grade: C+