If you watched television during the 90s, images of David Hasselhoff's hairy chest and Pamela Anderson's ample bosom prominently set in slow-motion to Jimi Jamison's I'm Always Here are likely ingrained in memory. For fans of the the TV show, the new Baywatch movie embodies some familiar elements but mostly dredges its own path as a rated R action-comedy. In a summer packed with big releases, this movie wasn't done any favors at the box office as it debuted on Memorial Day weekend opposite the newest installment in the Pirates of the Caribbean franchise.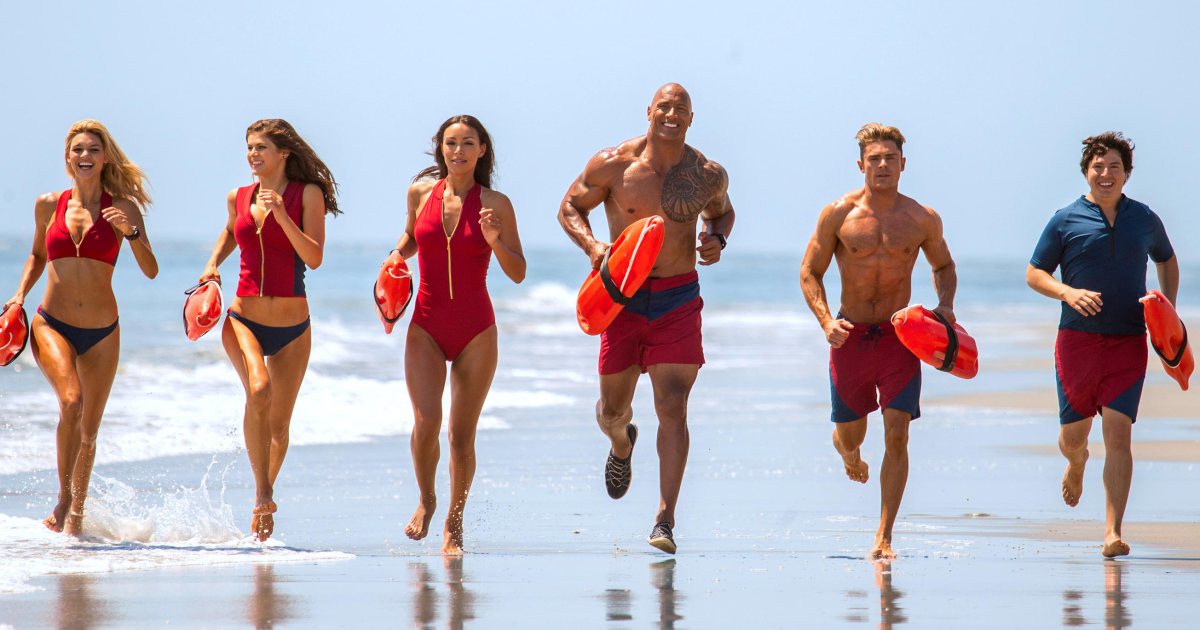 Director Seth Gordon had a tough job successfully executing this idea on the big screen. A big part of the show's success was its cheesiness. It didn't have to be good as long as it delivered lightly plausible episodic crime stories and scantily clad girls on the beach. Unfortunately, the movie adaptation doesn't have that same luxury. Gordon is no stranger to R comedies having directed Horrible Bosses and Identity Thief, but taking on a property with so much inherent nostalgia was a bit handcuffing. Perhaps turning the movie version in a full fledged action comedy helped identify it as a "summer movie", but forced it to compete at the box office with plenty of other action fare aimed at the PG-13 audience. Gordon did a good job sticking to the strengths of the screenplay, sadly there just wasn't much there.
Damian Shannon and Mark Swift teamed up for their third project together. Their previous efforts, Friday the 13th (2009) and Freddy Vs. Jason (2013), explain the campy nature of the screenplay and the gag oriented punchlines. Seemingly written with Dwayne Johnson in mind, I imagine the producers thought his star power (combined with Zac Efron's) was going to be enough to carry this into a future movie franchise since there was no real reason to revitalize the property as a one-off. Even though they actually provide the only good performances, the show's loyal audience wasn't tuning in weekly for The Hoff's acting prowess. The female characters on the show were undoubtedly eye-candy, but they were also central characters with actual stories. With few exceptions, they aren't very well written for the movie version and the majority are relegated to cleavage bouncing around in slow motion. Additionally, the focus on the nerdy character Ronnie's adolescent obsession with the buxom blonde CJ just made the entire thing feel dated.
Despite the problems, there are some bright spots. Johnson has continued his steady rise as the premier action star of his time and delivered a wheelhouse performance as the new Mitch Buchannon, but it wasn't much of a stretch for him. Efron played (the good looking but dumb) Matt Brody, a disgraced former Olympic gold medalist who ultimately proves his character after a long stretch of douchebaggery. He had played similar characters before in Neighbors and Mike and Dave Need Wedding Dates, so it's nothing new for him either. Both actors were solid in their roles, but too much of the dialogue was focused through that prism. The aforementioned Ronnie was played by Jon Bass, and while he did a good job, the character was a cliche nightmare complete with boner gags and lustful paralysis.
Priyanka Chopra led the ladies' contingent as Victoria Leeds, a smart, attractive, driven and savvy real estate business woman who also happens to be the primary villain. Her character would have been stronger had she not sunken to the depths of the movie's stupidity, but that was unavoidable. All things considered, she played the part well and should see more prominent roles coming her way in the future. Alexandra Daddario reunited with San Andreas co-star Johnson, this time as new lifeguard trainee Summer Quinn. Serving mainly as Brody's love interest, there is a loosely non-reciprocal flirtation between the two. She definitely fits the brand's mold, but is mostly a tertiary character. Kelly Rohrbach made the jump from TV to take up the mantle as CJ Parker. Although she is more prominently featured as a senior team member, her character is little more than eye candy with a winning personality. Drawing the short stick was Ilfenesh Hadera as Stephanie Holden. Her character is basically second in command, but I'm having a hard time remembering any dialogue she had outside of the first few minutes. Obviously there was some, but my point is she was buried in the background despite her being cast as Mitch's right hand woman. Small roles by Hannibal Buress and Rob Huebel were enjoyable, but don't do much to remedy a lack of character depth and development.
The most surprising element of the production was the cinematography by Eric Steelberg. Having Juno (2007) and 500 Days of Summer (2009) under his belt, this movie was a bit of a deviation but he delivered some very fun and inventive shots. Aside from the requisite slow-mo on the beach, Steelberg utilized a fair amount of underwater shots complemented by super high definition slow motion. The action sequences are well planned out and shot with a flair for close encounters, which makes them more intimate. In order to cultivate some authenticity, a good amount of the action takes place in the water and the stunt team deserves a ton of credit, not only for the aquatics but for the substantial action sequences that take place on land.
I'm not going to go as far as to say this is a good movie, but it's been getting a bit of a bad wrap. The Rock and Efron are both good enough to carry the movie through its weak patches, but there's only so much they can do. There are some familiar cameos to bolster that feeling of nostalgia, but it is certainly needed considering the movie is lacking substance. Even with all the bad, I still found it funnier than some of the popular comedies of the last few years…but most of that is Johnson and Efron.
Recommendation: This movie is a suitable choice for Memorial Day if you're looking for something simple, very, very simple.
Grade: D+