Well, it looks like I'm reviewing back-to-back Amy Adams films. I missed a few weeks worth of releases while on vacation, so it's time to get caught up. I'm still having a tough time figuring out exactly what I think about this movie, but hoping to figure it out by the time time I'm done with this review.
Fashion magnate turned Hollywood player Tom Ford finally directed his sophomore film seven years after his very well received debut project, A Single Man (2007). Let's face it, the guy has a good eye and it's carried his visions all the way to the big screen (I'd like to see his take on a Sci-Fi flick in the not too distant future). Right from the opening credits there is a certain sense of artistic abstraction as several overweight women dance in the nude to a red curtained backdrop. Red plays a large role throughout the film. A character in itself, shadowing several pivotal scenes. Thematically it lends itself well in context with the film's arc, representative of passion, anger, lust and violence. Ford managed to pull some stellar performances from his cast and deserves credit for it, adapting the screenplay from the Austin Wright novel Tony and Susan. Casting savant Francine Maisler deserves much of the credit as well, stacking the deck for Ford with a loaded cast complete with three redheads (Amy Adams, Isla Fisher and relative newcomer Ellie Bamber).
The story centers on Susan Morrow (Amy Adams), an LA art gallery owner stuck in an unhappy marriage. She receives a manuscript for a novel from her ex-husband Edward (Jake Gyllenhaal) and, through the course of reading it, reflects upon her past and confronts her own unhappiness. While that may not sound like the most compelling thing to watch, don't fear. The manuscript's gut wrenching story is played out alongside Susan's own life, and would have been able to do well as a stand alone film.
Remember those stand-out performances I mentioned? Unfortunately, Amy Adams wasn't one of those. Her character is all style over substance and lacks any legitimate depth, making it exceedingly difficult to connect or sympathize with. The heavy eye-liner and mascara wasn't a good look, detracting from her appeal despite being dressed in the finest designer chic. The rest of the cast, however, is quite good. Opposite Adams, Jake Gyllenhaal doubled as Edward and Tony, the manuscript's protagonist. As Edward, he is good but nothing special, mostly confined by the limitations of the character and the dialogue. Stuck in Susan's flashbacks, he plays the charming romantic who gets his heart broken  As Tony, Jake had the chance to dive into a character tormented by guilt and and heartache. Reeling from the death of his family, he shows depth and progression as he navigates the tricky waters in front of him. I would expect many considerations for Mr. Gyllenhaal when awards season gets into full swing.
Michael Shannon was fantastic as Bobby Andes, the Texas detective investigating Tony's case. His wry sense of humor and timing worked perfectly for the role. Both intense and funny, Andes has his own journey and crisis of character to handle while hunting down the men who killed Tony's family. Shannon's ability to bring so much life and feeling to his character with body language and facial expressions is a testament to his skill and craft as an actor. It is something that's easy to overlook if you're not paying attention, but it's a skill that finally delivered Leonardo DiCaprio his first Academy Award. Shannon should garner serious attention for supporting actor awards, but he will have serious competition from castmate Aaron Taylor-Johnson. He displayed a new level to his burgeoning skill set playing east Texas hick Ray Marcus. With a penchant for abusing weary travelers along a stretch of dark and desolate highway, his unlikeability is sharp and constant. A heavy gauge needle slowly piercing deeper into the skin. Even as the audience knows what's in store, his slow play delivery and dialogue build a sizeable pit in the stomach. I would venture to say it's his best performance since his rise to fame in Kick-Ass.
Director of Photography Seamus McGarvey understood Ford's vision well and brought plenty of high level experience to the table. Along with location scout Scott Trimble, the visual aesthetic of the film fell into place nicely, combining some beautiful architecture and well framed interiors and external shots of the desert. Abel Korzeniowski's fantastic original score rounded out the stylistic strength of the film, blending the right amount of suspense and mystery for an eerie noir-esque connotation.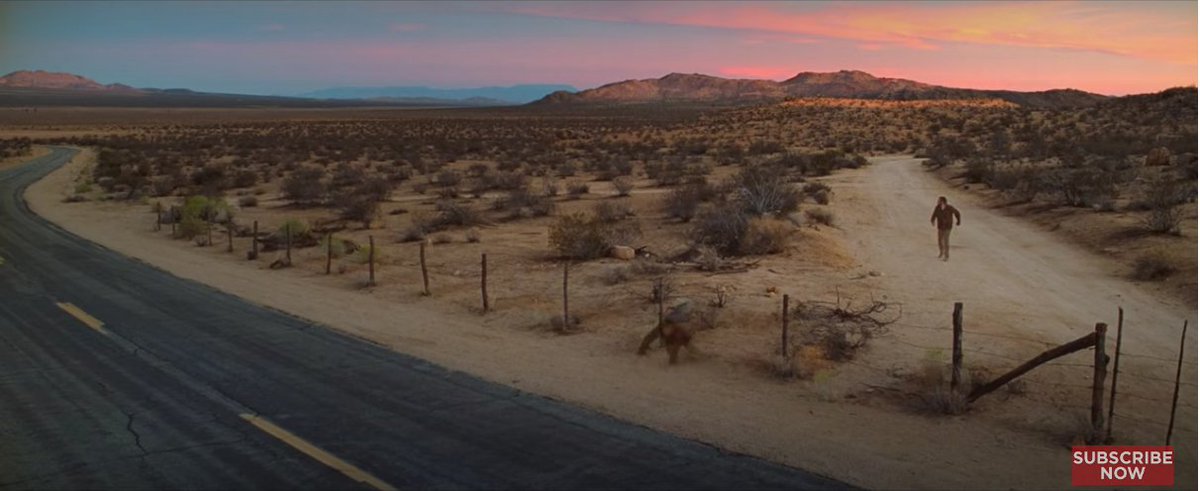 Recommendation: This is certainly not a date night movie. Double down on that for families. It's not a feel good movie, and it lacks a sense of purpose. It ends with a lack of resolution and a feeling of incompletion, with style edging out substance. Definitely not most people's cup of tea. However, if you're a fan of the cast or just interested in seeing all the movies before awards season then you're part of the niche demographic for this film.
Grade: B+