Black Mirror is finally back. Boasting six episodes (rather than the usual 3) now on Netflix. I've only made it through the first three so far, but it's still wonderfully bizarre. For those who don't know, the show is an anthology series loaded heavily with social commentary and science fiction elements. With the new season making its debut Friday October 21st, here's a ranking of episodes from the first two seasons for new viewers and maybe a refresher for fans who may have forgotten. At its best, it's one of the best shows I've ever seen and even at its worst it's still better than most other shows. For all you Game of Thrones fans, there are plenty of familiar faces in the series. Fair warning, the overall tone of the show is a bit depressing. However, the the amount of thought and genuine heart connected to the stories is where the beauty lies. That being said, this list is more reflective of my personal taste.
The Waldo Moment
Considering the current state of political affairs, this episode seems an appropriate place to start. A cartoon bear, voiced by a down-on-his-luck comedian, gets in over his head in the political process. Waldo, the cartoon bear, interviews and engages in verbal sparring with political figures under the guise of education. Once the character gains traction with the public, he's coerced into running for office by his producer. Meanwhile, Jamie, the man behind the character is mostly miserable. As his foray into the world of politics continues, he is met with some of the benefits of fame but is mostly faced with the pitfalls of the political process. The episode serves as a reminder that politics is a dirty game and even the most well intentioned and humorous among us are vulnerable.
The National Anthem
The Princess has been kidnapped and the kidnapper has a bizarre demand. British Prime Minister Callow must have sex with a pig on national television in order to protect the life of the princess. As news of the incident and video of the princess begins to circulate around the internet and social media, public pressure beings to weigh on the PM. His team stays busy tracking public opinion while trying to figure out a rescue plan for the princess. The public follows along through the media and internet, mostly cheering for the PM to perform the act, as he struggles with the consequences of his potential choices. This was the first in episode of the series and had to be poignant. Thankfully, it succeeded in reflecting the social and political climate of the time and launched the series in the right direction.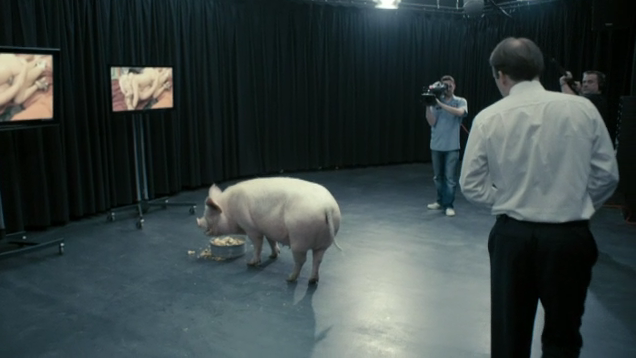 White Bear
The audience is introduced to Victoria. Lost and trapped in a pseudo-reality show. With no memory and no idea what's going on, she is chased through an unfamiliar world. Everyone she comes across shoves a cell phone camera in her face and terrifies her. As the episode progresses the viewing audience is more and more sympathetic to Victoria. However, when the episode reaches its conclusion, everything isn't as it seems. The portrayal of media and the public's thirst for sensationalism are at the heart of the story. When it's all said and done, the episode does a fantastic job of raising some serious moral questions.
Be Right Back
Martha and her boyfriend Ash are in love. His continued obsession with the "black mirror" of technology ultimately leads to his premature demise. Heart broken, Martha seeks out options to console her. In an attempt to rescue her from grief, a friend gets her to try an online data compilation service that builds a digital version of her late boyfriend based on his social media history. For Martha, the novelty of the situation isn't enough. That same company provides a synthetic host body, made to look and sound like her late boyfriend. At first, she's happy to live in the memory and enjoy the physical body. As time moves on, there is something missing from the relationship which Martha can't replace. This episode examines how we deal with death, our own mortality and the lengths at which we'll go to circumvent the inevitable.
Fifteen Million Merits
Bing is a first class citizen who lives in a dystopian future. His day starts in a tiny box with digital screens for walls. He rides a stationary bike in order to earn credits and power the grid. The most fortunate members of society earn enough credits to buy their way off the bike. The bottom of the barrel are subjected to humiliation and left to clean up after the first class citizens. Tired of the constant grind, Bing decides to help a young lady who he fancies. Things don't turn out the way he had hoped and he is left back where he started, alone and grinding away for credits. He sets out on a path of redemption, working as hard as he can to earn and save all the credits he can for one last chance to buy his way out of the game. When he reaches the end of his journey he is faced with a moral dilemma. His pain and anger motivate him to achieve his final goals, but he is still alone and forced to choose between his beliefs and a stable future. The episode plays heavily on the reality talent show angle and the disconnect between those in the audience and those on the stage. It is also critical of the judges and the roles they play in contestants' lives.
The Entire History of You
In the not too distant future, almost everyone has a neural implant that records everything. The implant known as the "grain" acts as a sort of digital video recorder of the mind, able to rewind and replay any moment ever captured and display them on any compatible device. Liam is a father and husband, but has become heavily reliant on his implant in order to navigate the modern world. He it uses to over analyze every interaction he deems to be meaningful. One night at a dinner party, he gets into a small argument with his wife that leads him down a road of analyzing old memories. As he begins to unearth small clues and unravel the mystery he is so desperate to solve, he becomes more abusive of alcohol and more self destructive along the way. His quest for the truth comes at a high cost. The novelty and cool factor of the technology is undeniable. However, the lengths at which we let new technology influence our lives is under the microscope in this episode.
White Christmas

Two men are stuck in a cabin together, and one of them is by Jon Hamm. Well, one of the two characters is played by Hamm. While preparing a Christmas dinner of sorts, he attempts to engage in conversation with his house mate. While divulging secrets from his own past, Hamm's character explains his role in an online dating scheme. He would guide men, through an earpiece while watching on his computer, how to pick up women. As he explains what he considered a hobby, the audience realizes something is isn't quite right. Recounting the story, he is clearly dealing with some guilt of his own which he hides from his house mate for obvious reasons.
When he gets into describing his day job, things begin to get really weird. His character, Matt, was a psychological programmer of sorts. He was tasked with conditioning artificial intelligence into subordination and i'll leave it at that. His story finally coaxes Potter, Matt's house mate, to confess his sins. A story of heartbreak. After Potter's girlfriend discovers she is pregnant, their relationship ends. Potter loses his love and his would be child and engages in stalking behavior for years. Never able to understand what really happened, his desperation leads him to irrational acts. After catching a story on the news involving his ex-girlfriend, Potter attempts to reconcile with her family only to have it backfire in crushing disappointment. Themes of sadness, guilt, desperation and isolation are weaved into this multifaceted story. Questions about right and wrong, good and bad are on full display throughout the episode and it's all wrapped up beautifully intricate science fiction.
Check out the trailer for the new season below!